The Backwoods Bag is finally here! Bags are one size, unisex, and adjustable. Free Shipping (USA Only). This is NOT Read More
The Backwoods Bag is finally here! Bags are one size, unisex, and adjustable. Free Shipping (USA Only). This is NOT Read More
WeatherWool  is a company I truly support and believe in. They were the first company to affiliate with me and Read More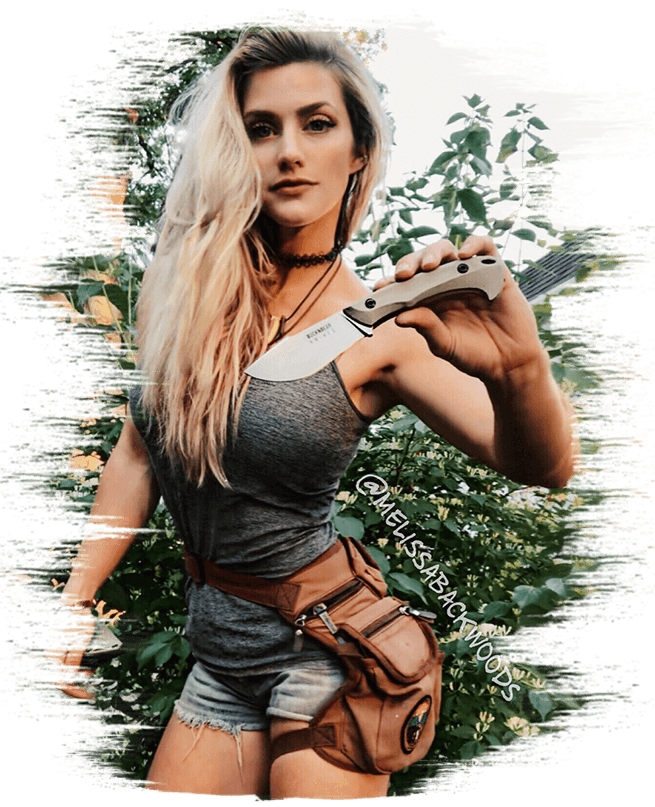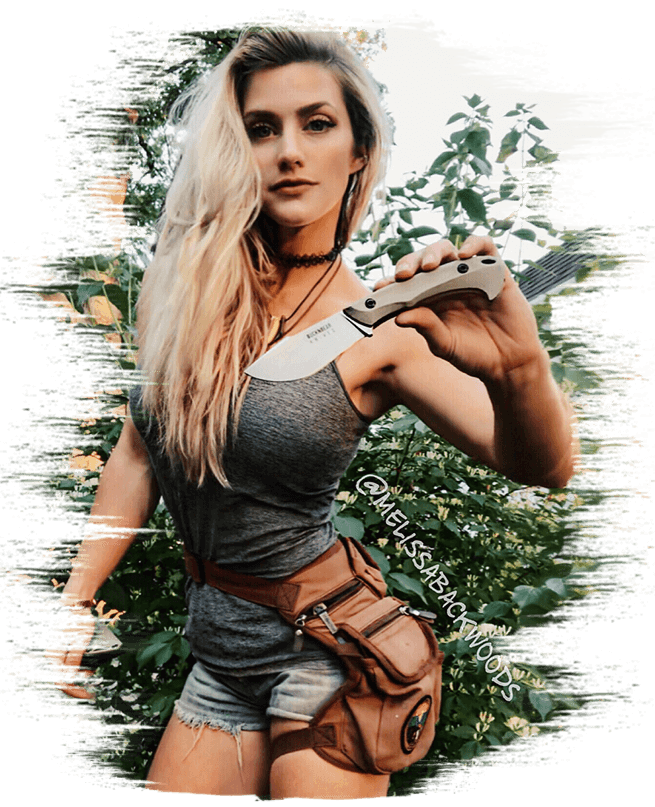 Melissa Miller came to recognition after appearing in Discovery Channel's primitive survival challenge reality show, "Naked & Afraid." In the Season 7 finale "Worlds Collide", she survived 3 weeks in Amazon Jungle with only a fishing line, knife, and fire starter. After achieving success in her 21 day challenge, Melissa was asked back to compete in the "Naked & Afraid XL" challenge where she had to survive 40 days in the Selati Basin of South Africa primitively. Melissa's third and final appearance on the show took place in the Florida Swamplands for a special Veteran episode. Though she would love to continue doing the show, she now focuses on her career in digital and social media marketing.
She is also well-known for her Instagram page "MelissaBackwoods" and for working with knife companies and custom blade makers across the world. She works with several outdoor companies as an advisor, influencer, and social media ambassador. She works full-time for Caribou Media as a digital creator and marketer.
Melissa graduated in 2016 with a teaching degree from The University of Michigan. She is an environmental educator in Michigan's largest park system, where she teaches a wide variety of subjects to nature enthusiasts of all ages. Teaching wilderness survival at work and studying indigenous cultures in college, Melissa began practicing primitive skills on a daily basis, where she began sharing her knowledge with others through social media. Primitive trapping, fire making, and foraging have always been her favorite parts of survival, where she continually seeks new information to share.
Aside from fishing, foraging, and trapping, Melissa has recently taken up traditional archery in hopes to become a stronger hunter. "Acquiring natural food that one has to work for is very rewarding," she believes. She also believes the ultimate connection to earth is learning how to utilize its natural resources for survival.
Melissa is passionate about wildlife conservation and educating children on the benefits of getting outdoors. For now, she continues to share her passions with others and work with companies to gain further experience in life. She  always remains grateful to those who have supported her along the way.
I am available to speak at colleges, art festivals, & theaters on topics about survival, nature, and my experiences on naked & afraid. for booking info regarding this, please contact my booking agency:
smokin' sleddog records