*NEW* Sign up for the "Backwoods Newsletter" below. I will use this for knife & gear giveaways, upcoming events, knife news, and more ways to connect with you all! If this sounds like something you might be interested in it, you can subscribe by entering your email address (you can unsubscribe at any time).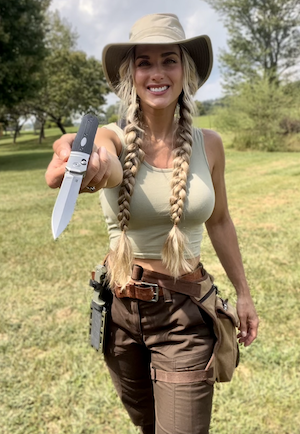 Melissa Miller came to recognition after appearing in Discovery Channel's primitive survival challenge reality show Naked and Afraid. She is also well-known for her knife and gear reviews on social media.
Melissa graduated with a teaching degree from The University of Michigan. She became an environmental educator in Michigan's largest park system where she taught nature education and wilderness survival.
Melissa's interest and knowledge in wilderness survival led to her being casted on Discovery Channel's Naked and Afraid for 3 seasons. She successfully completed all 3 challenges in the Amazon Jungle (21 days), the South African Selati Basin (40 days), and the Florida Swamplands (21 days). She primitively survived with nothing but a knife and one other survival item.
Melissa's passion for wilderness survival progressed into a passion for blades. She began reviewing knives in 2017 on her Instagram channel and Facebook. In 2018, she became the social media manager and digital marketing director for the world's leading knife publication, BLADE Magazine along with the world's largest knife show series, BLADE Show.
Melissa now focuses her efforts on her social media where she creates videos reviewing knives and gear. She can be found on YouTube, Facebook, Instagram, and TikTok as @MelissaBackoods.